Tomorrow: Wear green to honor Tucker Parkinson's memory & his love of 4-H.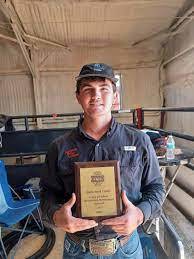 Tomorrow: Wear Green in honor of Tucker Parkinson's memory & his love of 4-H.

Join us tomorrow at 7:30 AM!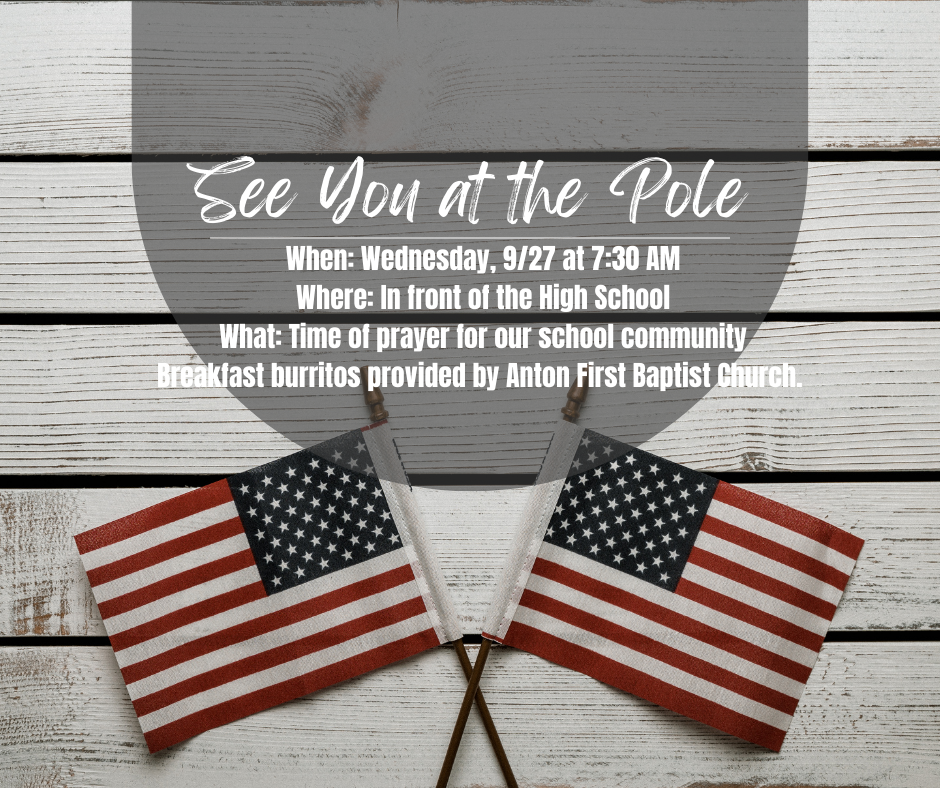 ATTENTION PARENTS: Students will ONLY be working on floats during activity period Tuesday-Thursday and after 2nd period check-in on Friday. If you come to deliver supplies/help decorate, we need you to check in at the front office first. We cannot have unverified visitors gathering on campus. Thank you!

Save the Date: Friday, October 20th Anton Community Loteria Night! The night will begin at 6:30pm at the Anton Church of Christ Annex Building. Fun-filled night with some awesome prizes.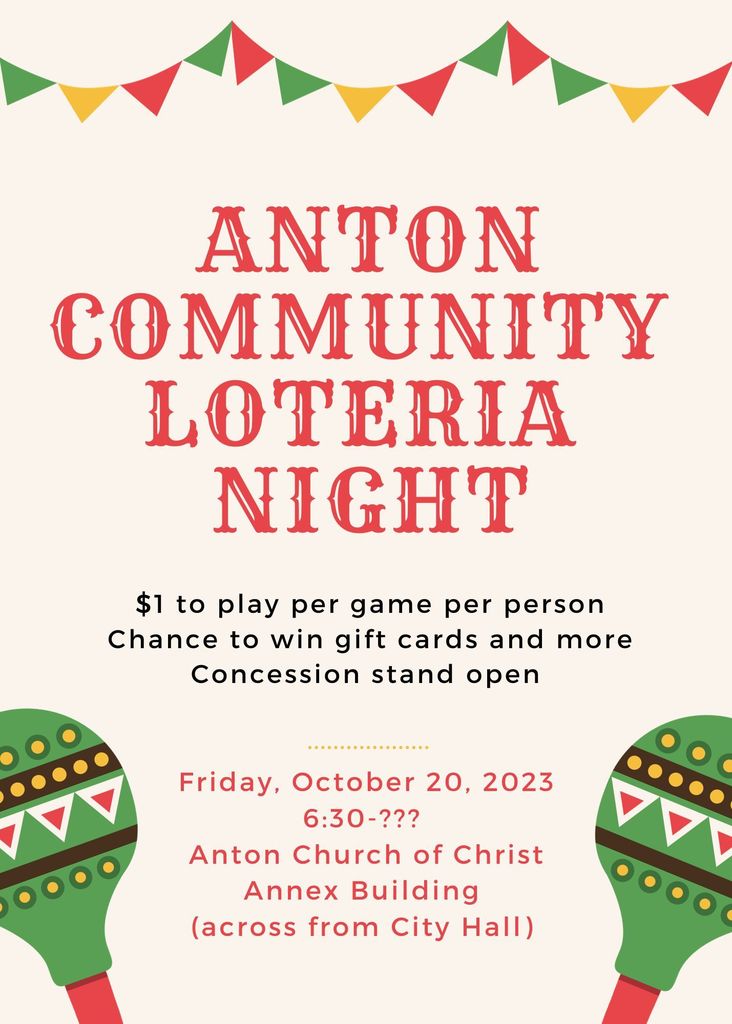 Homecoming Dress Up Days for next week! Reminder: No School on Monday and Early Release on Friday at 12:15pm.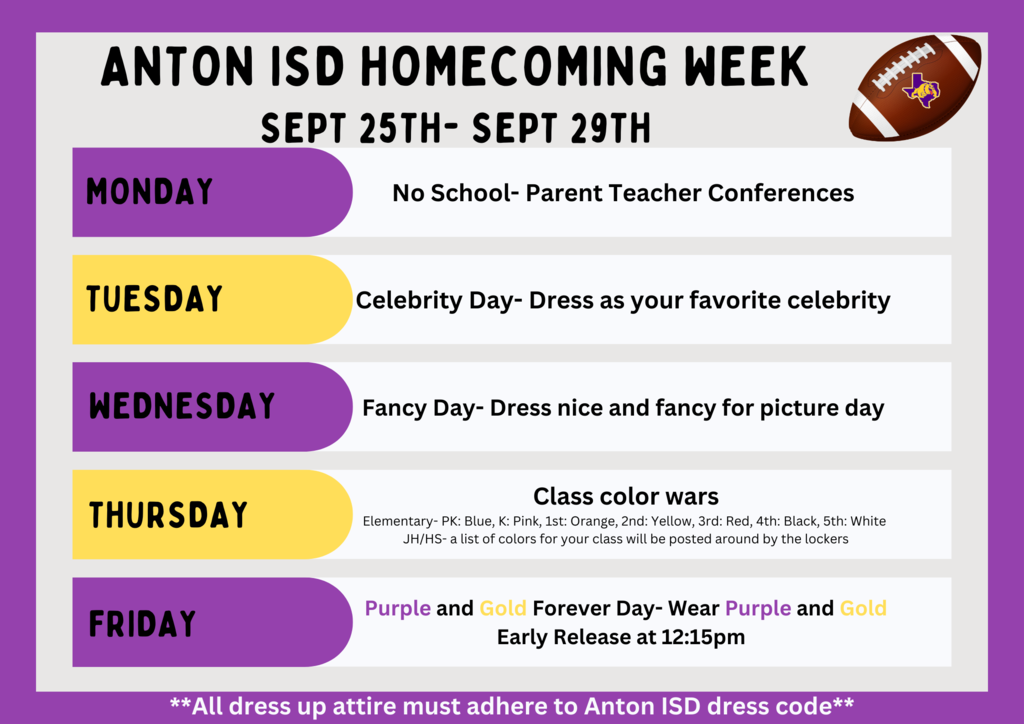 The Junior class is selling World's Finest Chocolate for $1.00. All proceeds will go towards Prom!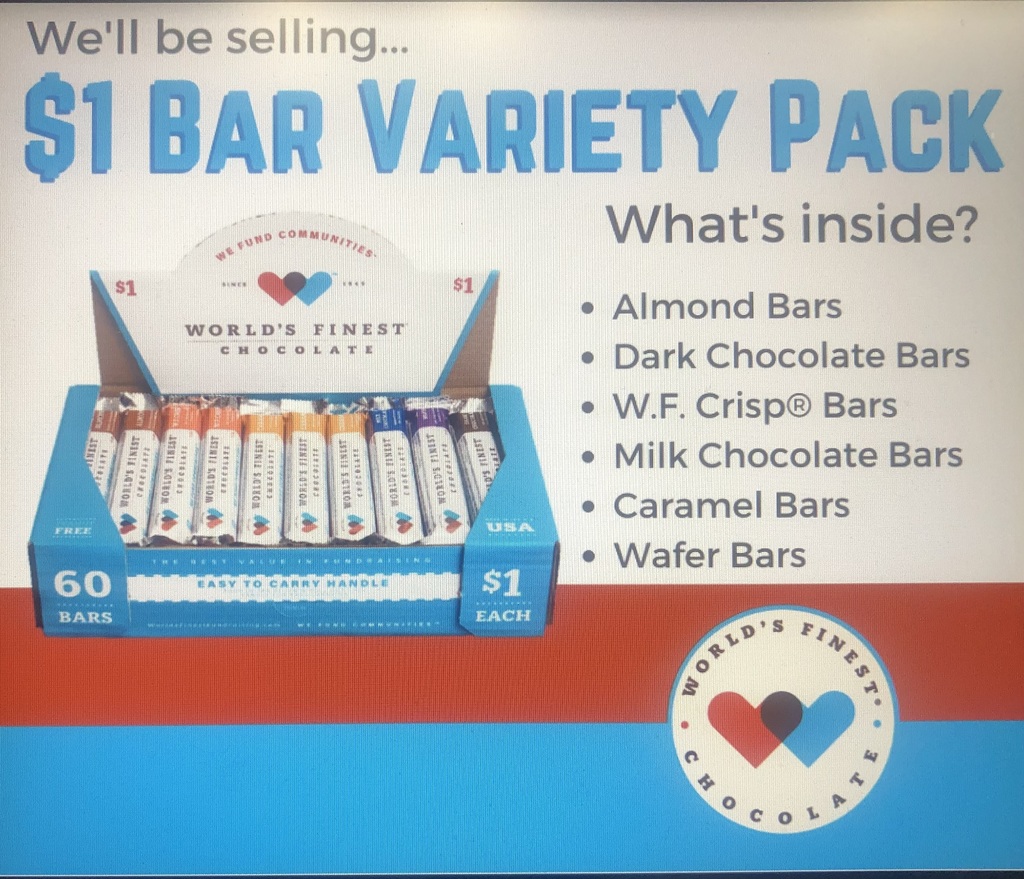 LCU's Romeyo Kirven spoke with our Seniors today about "Unleashing Peace, Power, & Purpose". He inspired our students to look for opportunities beyond high school. Some of the key takeaways were: -You'll never find what you're not looking for. -Adversity gives way to opportunity. -Pain gives birth to purpose. -Let your mess be your message. Thank you, Mr. Kirven, for a positive experience!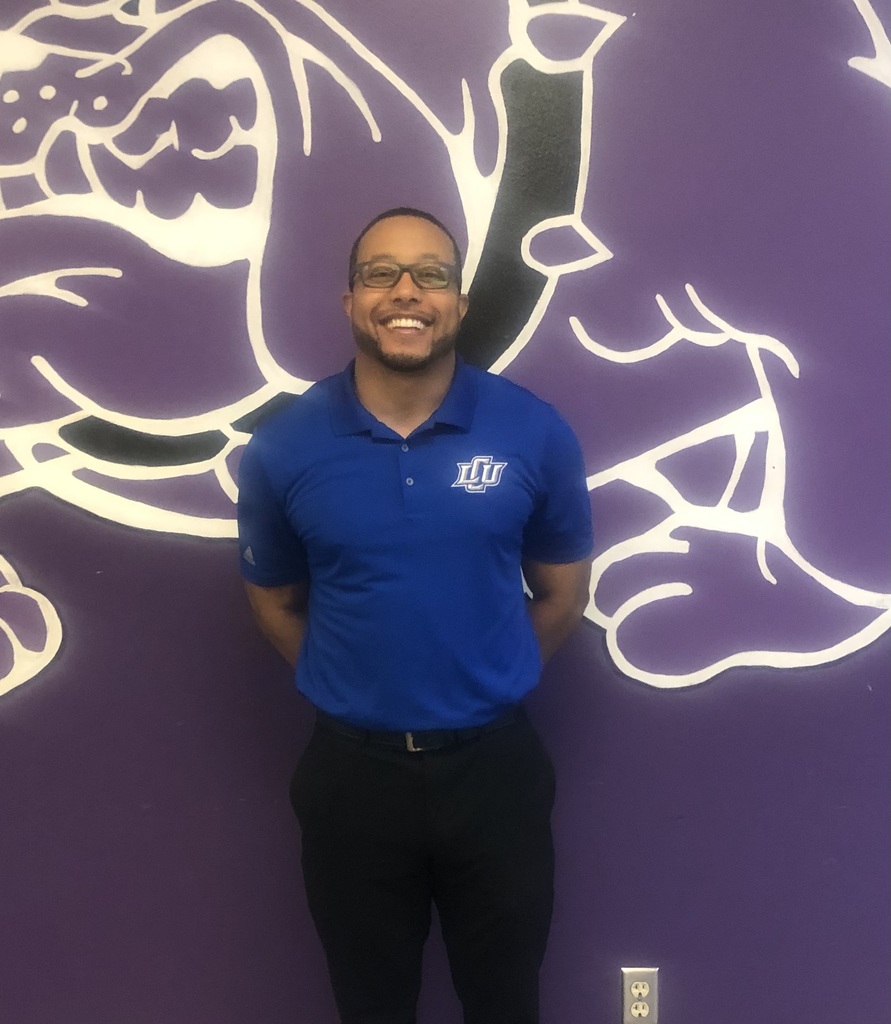 Wednesday, September 27, is PICTURE DAY! Dress your best! We will also be taking Senior pictures along with Football, Cross Country and Cheer sports pictures.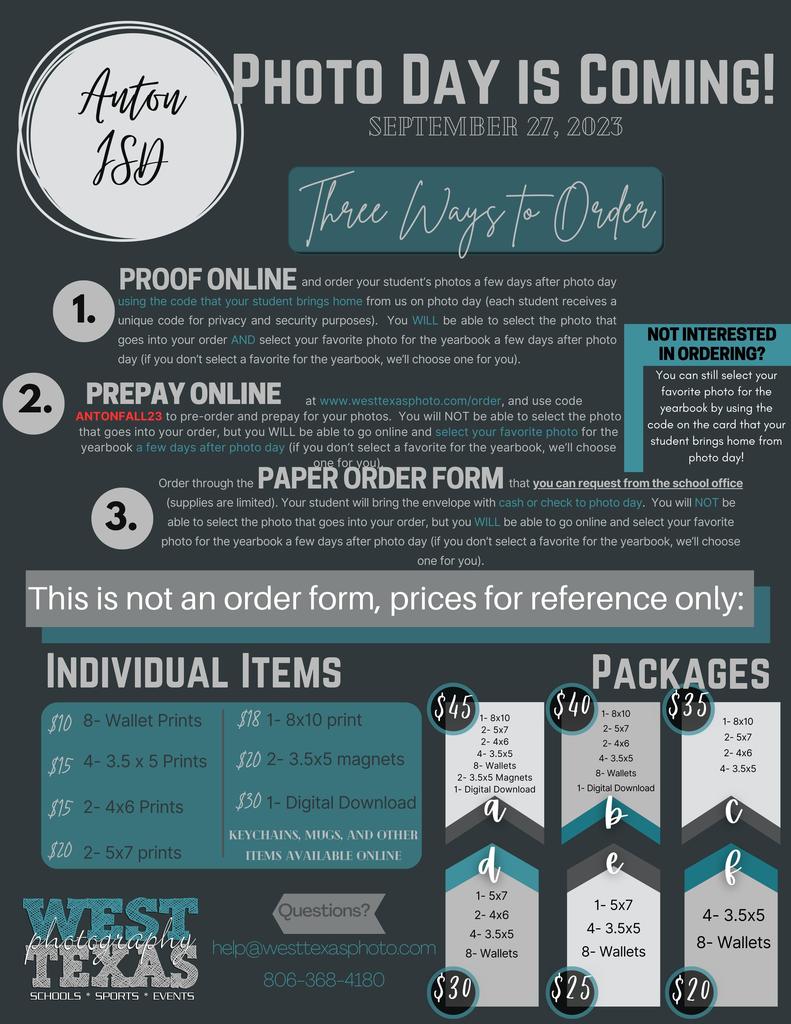 Attention Parents: Last year's STAAR results & progress reports went out this week! If your child failed any STAAR test, you will have an additional notification detailing your child's accelerated instruction plan. Please sign and return that paper to the office as soon as possible. Thank you!

Student Council Members 2023-2024: President: Isabela Juarez, Vice President: Josh Garcia, Treasurer: Michael Carlisle, Secretary: Caleb Carlock, Class Representatives: Mason Anderson, Jessica Rodriguez, Mariah Miller, Zian Martinez, Shooter Campos

Save the Date: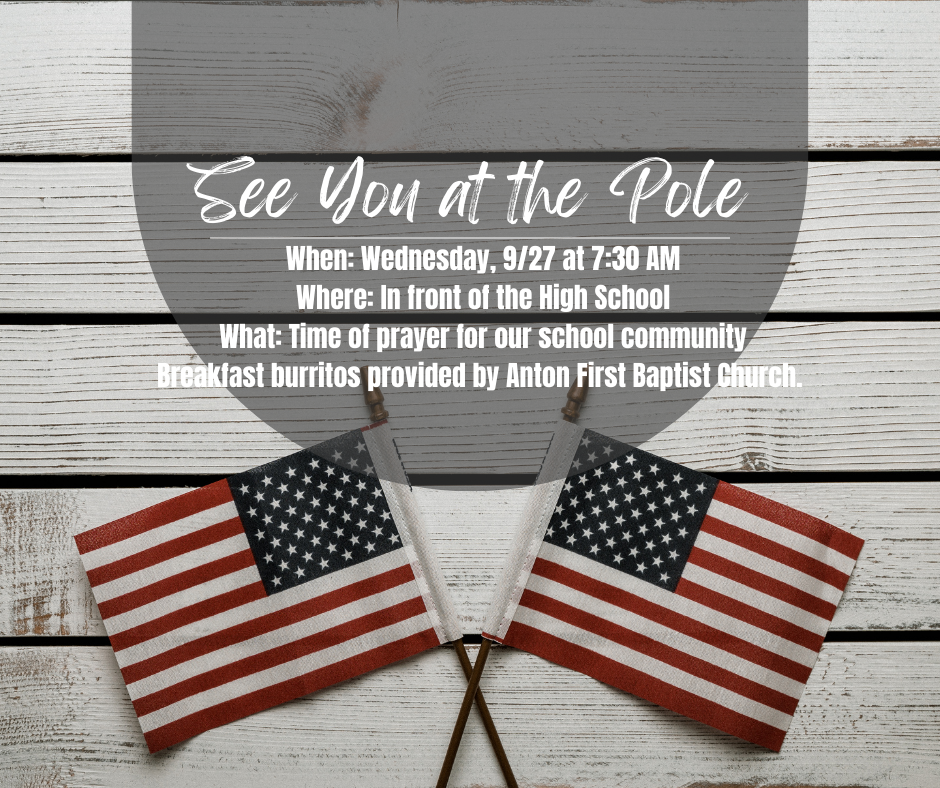 CHANGE TO FOOTBALL SCHEDULE FOR THIS WEEK: Due to a shortage of officials, JH & Varsity will both play on Thursday, 9/7 at Archie Warwick Memorial Field in Lubbock. JH will begin at 5:00 PM & Varsity will follow at 7:00 PM.

7th Grade Parents: We need updated shot records as soon as possible to ensure that all students are up-to-date. Please turn these into the office. Thank you!
Tied in Colorful Unity: Unleashing Vibrant Vibes at Our Staff Tie-Dye Social!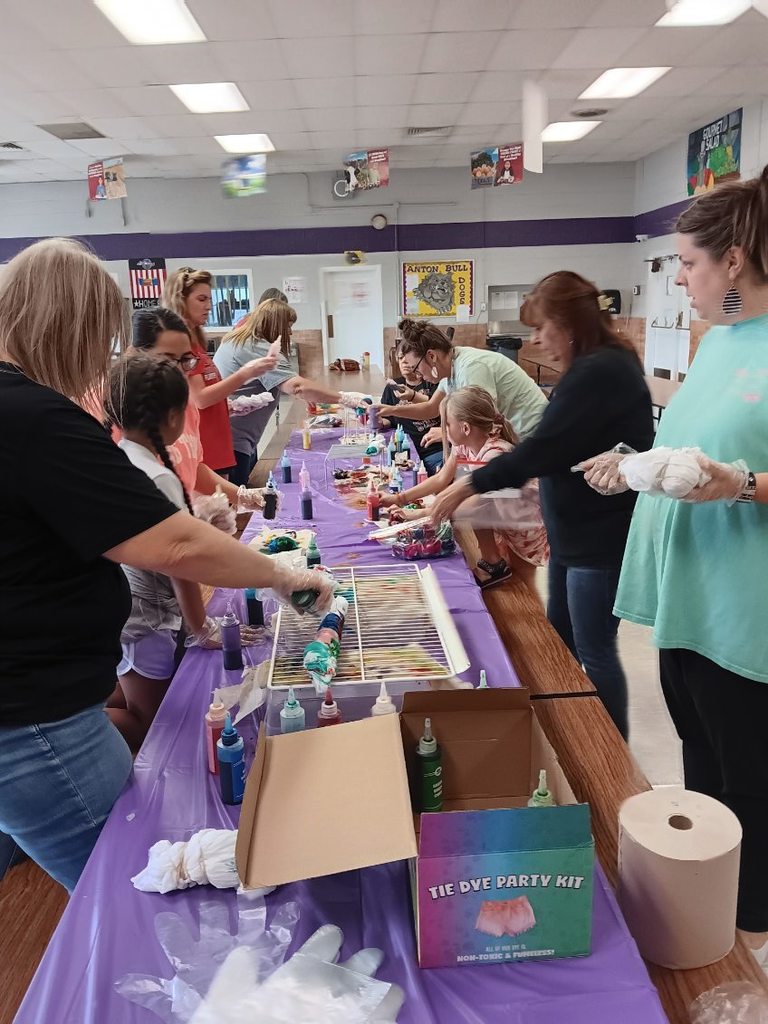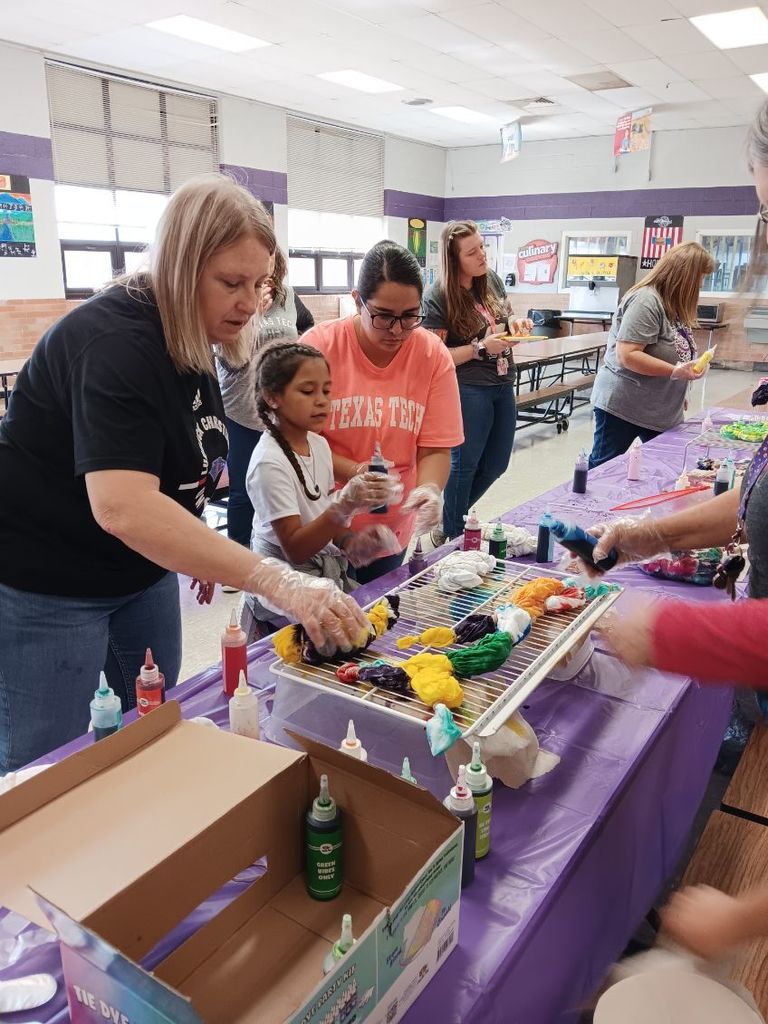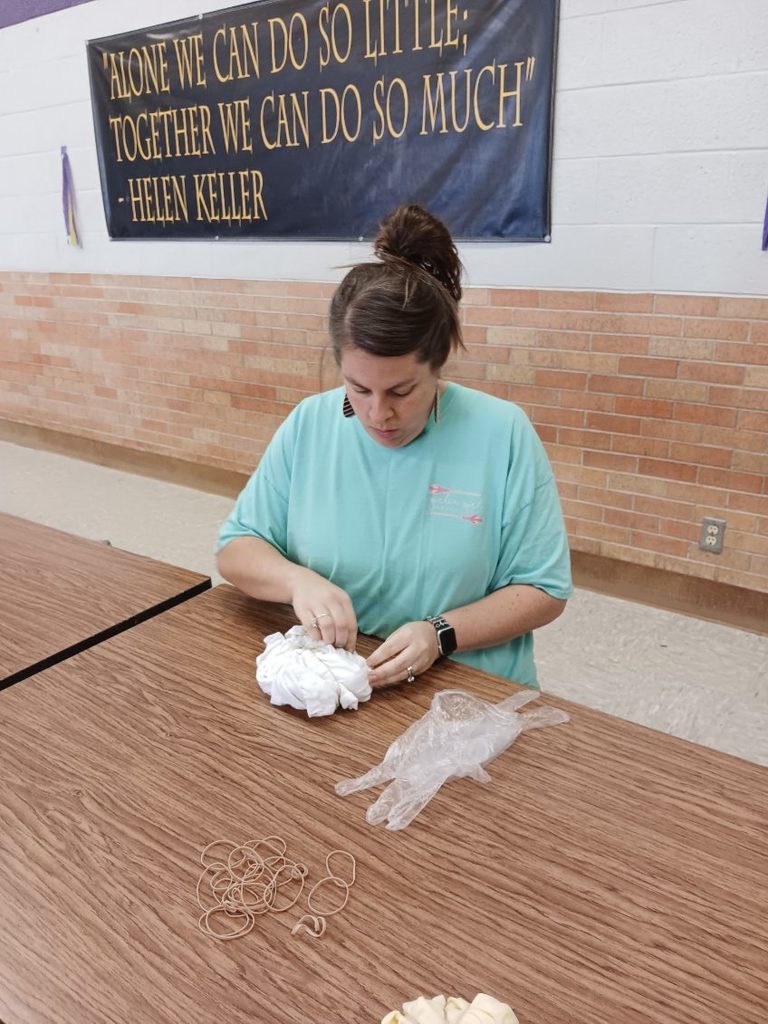 Notice: In accordance with HB 114, enacted by the Legislature of the State of Texas, 2023: If your child possesses a vape on district property or at a district event, by law, they must be placed in a disciplinary alternative education program (DAEP). In addition, your child is required to complete a Vaping Education course approved by the district & produce a certificate of completion before they are admitted back into the regular classroom.

ATTENTION JH/HS PARENTS: If you have not completed this Google Form for your child/children, please do so as soon as possible! This form allows us to know who has authorization to pick your child up from school. We will not be able to release your child/make contact with anyone not listed on this form. Please complete one form for each child. Thank you!
https://docs.google.com/forms/d/12N2D5XJxMpvYXbzAz8FnqkgmPNfRx_APFickiH-bU1k/edit

Parents, we need your help! We are seeing a lot of tiny tops at the JH & HS level. Please be aware that shirts exposing the midriff are not allowed. If your child wears a shirt that hits at the waistband area, they should have an undershirt tucked into their pants so no skin is exposed. Students will be given one opportunity to comply if dress-coded. Thank you for your help in this matter!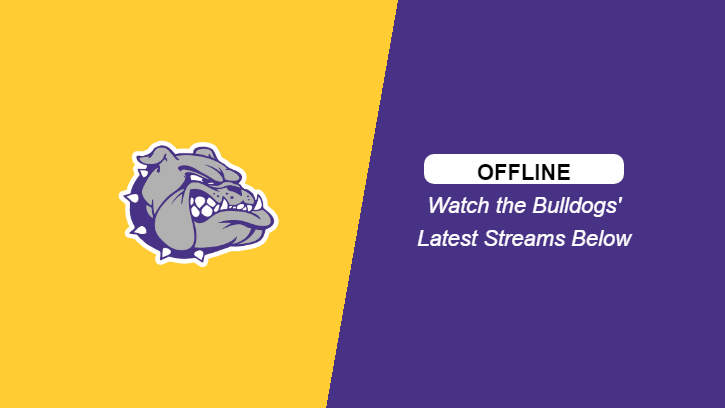 Attached are some end of week 1 reminders. We do get out at 3:15pm TODAY(Friday)!